The global paint and coatings industry has an estimated production of 40 million tons. The industry consists of decorative coatings and industrial coatings. This article gives the top 10 paints & coating company in 2019 based on their annual revenue results in 2018.
The total value of the industry is approximately 150 billion USD in 2019. Decorative coatings contribute about 45% of the total value and industrial coatings about 55%.
Top 10 Paint & Coating Companies in the World in 2019
1. The Sherwin-Williams Company: Revenue USD 17.53 billion
2. PPG Industries, Inc.: Revenue USD 15.4 billion
3. Akzo Nobel N.V.: Revenue USD 10.6 billion
4. Nippon Paint Holdings Co., Ltd.: Revenue USD 5.83 billion
5. RPM International Inc.: Revenue USD 5.56 billion
6. Axalta Coating Systems Ltd.: Revenue USD 4.7 billion
7. Kansai Paint Co., Ltd.: Revenue USD 3.96 billion
8. BASF SE: Revenue USD 3.49 billion
9. Masco Corporation: Revenue USD 2.65 billion
10. Asian Paints Limited: Revenue USD 2.36 billion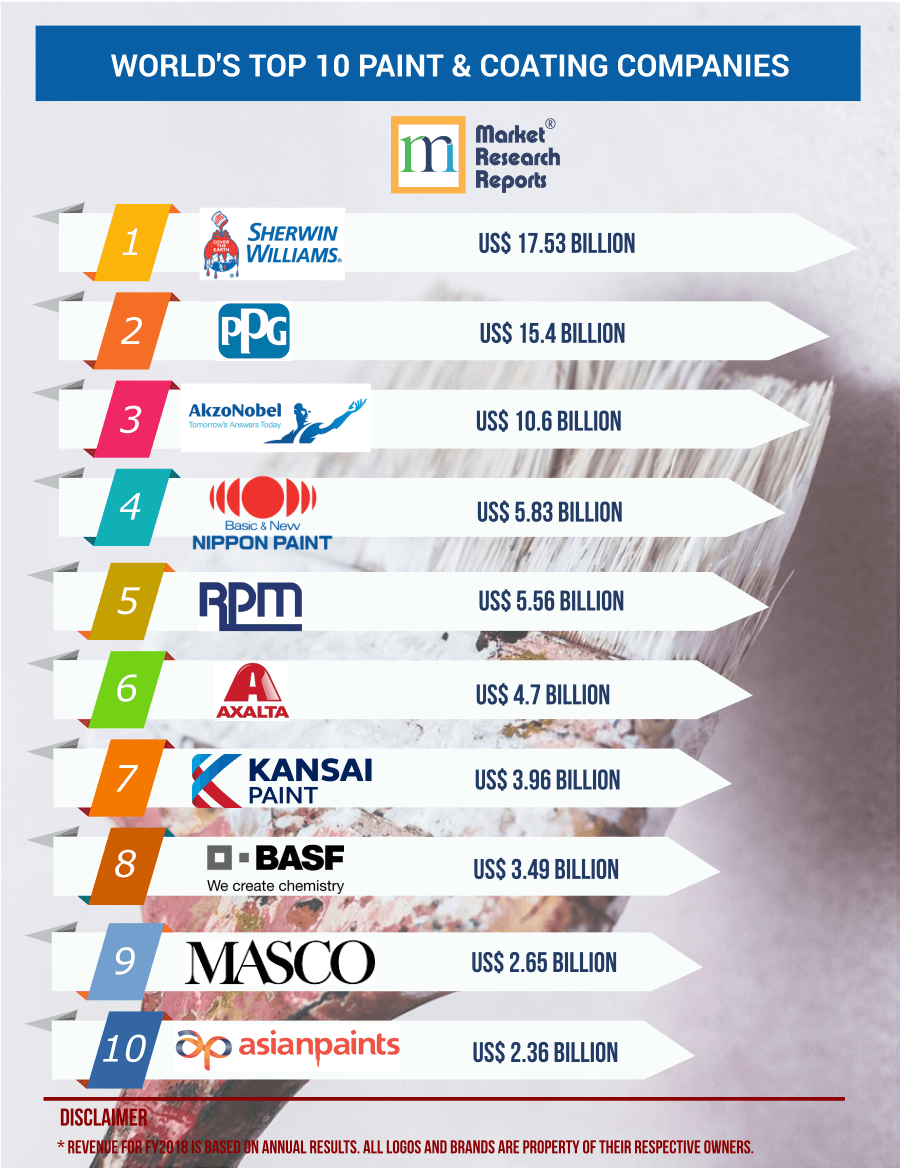 Leading Paint & Coating Companies in the World in 2019
1. The Sherwin-Williams Company
Sherwin-Williams Company is an American Fortune 500 company, engages in the manufacture, distribution, and sale of paints, coatings and related products. Company's fourth-quarter consolidated sales increased approximately 2% and full-year sales increased $2.55 billion, or 17%, to a record $17.53 billion. Consumer segment sales lagged expectations in the last quarter and non-domestic sales also declined significantly compared to last year. One of the profitable business units of the company, industrial wood finishing business in China caught under the tariff wars and reported single-digit sale decline year over year. General industrial and protective and marine coatings demand remained solid in most geographic end markets. After the Valspar acquisition, Sherwin Williams now controls the lion share in the paint and coating market. The Valspar transaction was the largest acquisition of the company's history, for which it has spent a whopping USD 9.3 billion.
USA based PPG Industries, Inc. is a Fortune 500 company and global supplier of paints, coatings, and specialty materials. The company reported 2018 net sales from continuing operations were approximately $15.4 billion, up about 4 percent, versus the prior year. PPG's 4th quarter 2018 net sales of approximately $3.6 billion, declined 1 percent compared to the prior year. Performance Coatings segment fourth-quarter net sales were $2.1 billion, up $16 million, or nearly 1 percent, versus the prior year. Aerospace coatings net sales volumes grew by over 10 percent as a result of strong industry demand and continued strong customer demand in each major region for PPG's technology advantaged products. Industrial Coatings segment fourth-quarter net sales were about $1.5 billion, down $53 million, around more than 3 percent, versus 2017.
AkzoNobel is a prominent name in the paint industry. Company is an expert in the proud craft of making paints and coatings, setting the standard in color and protection since 1792. AkzoNobel's world-class portfolio of brands - including Dulux, International, Sikkens, and Interpon - is trusted by customers around the globe. 2018 was a landmark year for AkzoNobel as it has completed the sale of the Specialty Chemicals business and began returning the vast majority of proceeds to its shareholders. Company is now focusing on paints and coatings segment and channeling all their experience, energy and passion into being recognized as the reference in their industry. 2018 revenue is 4% lower, although up 1% in constant currencies, with positive price/mix partly offset by lower volumes.
4. Nippon Paint Holdings Co., Ltd.
Nippon Paint Holdings Co., Ltd. is a Japanese paint and paint products manufacturing company. The company was founded in 1881. The company and its subsidiaries have offices in Japan, Singapore, Malaysia, South Korea, China, Hong Kong, Indonesia, Philippines, Taiwan, Thailand, Vietnam, India, Sri Lanka, Pakistan, United Kingdom, Germany, Greece, Norway, Netherlands, Lithuania, Poland, Russia, Slovenia, Spain, Bulgaria, Estonia, Italy, United States, Brazil, Australia, the United Arab Emirate and Bangladesh. The company had yen 627,670 million revenue in 2018 which is up 2.9% from the previous year.
5. RPM International Inc.
RPM International Inc. is an American multinational company along with their subsidiaries manufacture, market and sell various specialty chemical product lines, including high-quality specialty paints, infrastructure rehab and repair products, protective coatings, roofing systems, sealants, and adhesives, focusing on the maintenance and improvement needs of the industrial, specialty and consumer markets. Company's business is divided into three reportable segments: the industrial reportable segment ("industrial segment"), the specialty reportable segment ("specialty segment") and the consumer reportable segment ("consumer segment"). Company's sales are generated in international markets through a combination of exports to and direct sales in foreign countries. For the fiscal year ended May 31, 2019, it recorded net sales of $5.6 billion.
6. Axalta Coating Systems Ltd.
Axalta is a global leader in the coatings industry, providing customers with innovative, colorful, beautiful and sustainable coatings solutions. Company's turnover in 2018 was $4.7 billion, compared to $4.3 billion in 2017. Axalta net income improvement primarily driven by the absence of prior year impacts of U.S. tax reform Performance Coatings segment's net sales were $757.5 million in Q4 2018, an increase of 3.4% year-over-year including 3.0%. The Transportation Coatings segment produced net sales of $400.6 million in Q4 2018, a decrease of 7.4% versus Q4 2017.
7. Kansai Paint Co., Ltd.
Kansai Paint was established in 1918 in Osaka, Japan and is a leading manufacturer of automotive, decorative, protective and industrial coatings and finishes. Company has manufacturing facilities in Africa, America, Europe, the Middle East, and East and South Asia. Kansai is well known for its innovation and R&D capabilities. Company has witnessed an increase in net sales in all segments. Kansai's revenue in FY 2018 was yen 427.4 billion.
Coating division's sales of BASF was reported at €3,856 million in 2018. Despite slightly higher volumes sales, particularly in Asia and North America, sales of automotive OEM coatings declined due to negative currency effects in all regions. Company has recorded sales growth in the automotive refinish coatings business as negative currency effects were more than offset by higher sales volumes in Asia, North America and Europe, and higher prices. In September 2018, BASF has opened a new laboratory for automotive OEM coatings in Münster, Germany, with a focus on optimized, digital and transparent processes as well as using resources efficiently.
Masco is one of the largest suppliers of architectural paint and exterior wood care products to the U.S. and Canadian do-it-yourself channels, the company offers a complete line of products for virtually every consumer coating need. Decorative Architectural Products' net sales increased 30 percent; excluding the acquisition of Kichler, net sales increased 8 percent due to growth in paints and other coating products, partially due to sales pulled-forward from the first quarter of 2019.
Asian Paints Limited is an Indian multinational paint company headquartered in Mumbai. The company is engaged in the business of manufacturing, selling and distribution of paints, coatings, products related to home decor, bath fittings and providing of related services. Asian Paints posted a net profit of ₹2,211.91 crores for 2018-19 as compared with ₹2,097.52 crores for 2017-18. Company's revenue from the paints segment was ₹4,899.09 crores and ₹119.12 crores from the home improvements segment.